Crown Oil – Fuel & Lubricant Supplier
See the history of our family run business that has been running for over half a century. Find out how we deliver our service to you
Established for over 65 years, Crown Oil is an independently owned, family-run business. We are oil suppliers, delivering fuels and lubricants throughout the UK to both homes and businesses.
At Crown Oil, we work hard to secure supplies of red diesel, gas oil, diesel, kerosene/heating oil and lubricants at the very lowest prices.
Red Diesel (Gas Oil)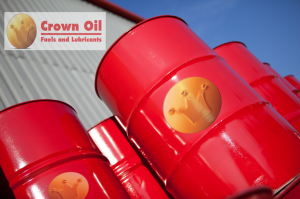 Red diesel is also known as gas oil, 35 seconds, medium diesel, heating oil, tractor diesel, cherry, generator fuel and many more. The names reflect their uses through slang terms.
Crown Oil is a leading supplier of gas oil and our buying power means that you can order yours at incredibly low prices.
Red diesel is used by our industrial, commercial, agricultural and construction customers in a wide variety of uses from heating right through to tower cranes, excavators, diggers and tractors.
No delivery is too large or too small as we have an extensive range of tankers to manage your order. Whether it is a full 36,500 litre delivery on an articulated tanker, right down to 500 litres on our 'baby tanker' we have the tools, experience and prices to fulfil your needs.
For more information about gas oil please go to our red diesel page.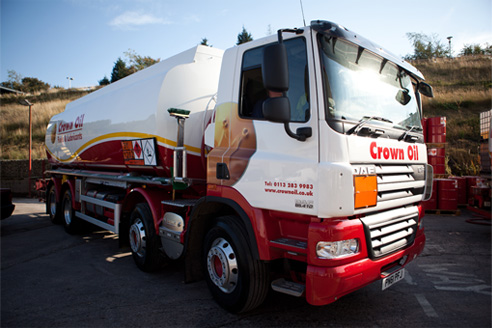 Diesel (DERV)
Diesel, also known as DERV, white diesel, road diesel and ULSD, is suitable for use in all road vehicles powered by a diesel engine, such as lorries, cars and vans.
We buy our diesel direct from the refinery and have full traceability to ensure you receive the best quality and standards for your machinery.
Our independence and buying power give us the ability to make cost efficient purchases and pass the savings on to you, guaranteeing competitive prices, as well as flexible payment terms.
We sell diesel in bulk quantities from 500 litres to 36,000 litres delivered in road tankers. For smaller amounts, we can deliver in 205 litre drums.
For more information please go to our diesel page.
Kerosene (Heating Oil)
Kerosene, also known as burning oil, 28 second heating oil, industrial paraffin, C2 kero and standard kero, is used for domestic heating and industrial processes requiring low sulphur fuel.
We can deliver Kerosene in any size of vehicle ranging from our 500 litre baby tanker right through to one of our 36,000 litre articulated tankers.
Whatever the access restrictions you may have for the supply of your Kerosene, we have the means to get it to you.
At Crown Oil, we focus on exceptional personal service and consistency of delivery, to ensure buying heating oil from us is quick, easy and delivery is on time.
To ensure you never run out of fuel, we can calculate your optimum ordering pattern over a given time period and then "top-up" your tank to ensure you benefit from the lower price associated with larger deliveries whilst ensuring a run-out doesn't occur. This will let us take the worry out of ordering your oil.
With over 65 years of experience, Crown Oil Company has become an expert in managing and delivering heating oil to its domestic customers.
For more information please go to our kerosene  or heating oil prices page.
LUBRICANTS
We supply a huge range of different lubricants from fully synthetic to specially formulated products to meet your requirements.
During 65 experienced years of blending lubricants, we know we can offer unparalleled expertise, products and service for all companies in the UK.
If you would like to know about any of our products, or how we can blend an oil specific to your requirements, then please email us or simply call 0845 313 0845 to speak to one of our experienced account managers for any technical advice.
For more information please go to our lubricants page.
PLEASE GIVE US A CALL ON
0845 313 0845
or fill in the call back request form.
With over 6 decades of experience, The Crown Oil Company has become an expert in managing and delivering fuels and lubricants across the whole of the UK.
Crown Oil offer a complete range of products and services:
The Crown Oil Company
Here at Crown Oil we believe excellent service is paramount to our success, combine this with first class local knowledge and competitive prices and that is what makes Crown Oil the automatic choice as your red diesel / fuel supplier.
We provide a next day delivery service but, in the event you do run out of oil we will do our best to deliver to you the very same day.
We are also very proud of the high levels of service we provide in supplying diesel, red diesel, heating oil, kerosene and lubricants to our customers.
If you're looking for low red diesel prices, then please give us a call today on – 0845 313 0845
Thanks again for visiting our site today and we hope you can find what you are looking for. If not, please call us and we will do our upmost best to help you in your fuel buying needs / environmental service requirements.