Supplying the AdBlue Tanks You Need
Here at Crown Oil, we can supply the AdBlue tanks you need to keep your supply safe and secure. If you have one or more large diesel engines running on a regular basis, then keeping a tank of AdBlue onsite will eliminate the need to keep reordering the chemical on a regular basis.
Would you like to know more about our AdBlue tanks? Then give us a call on 0845 313 0845. One of our team will be more than happy to answer any questions you may have.
How Does AdBlue Work?
AdBlue is stored in a separate tank next to your diesel engine. When the engine is running, emissions flow through the exhaust system and out into the air. To reduce emissions, AdBlue is sprayed onto the gases as they leave the exhaust system. This breaks down the nitrus oxides in the fumes so then there is only water, CO2, and nitrogen being expelled into the air.
The diagram below details how the process works: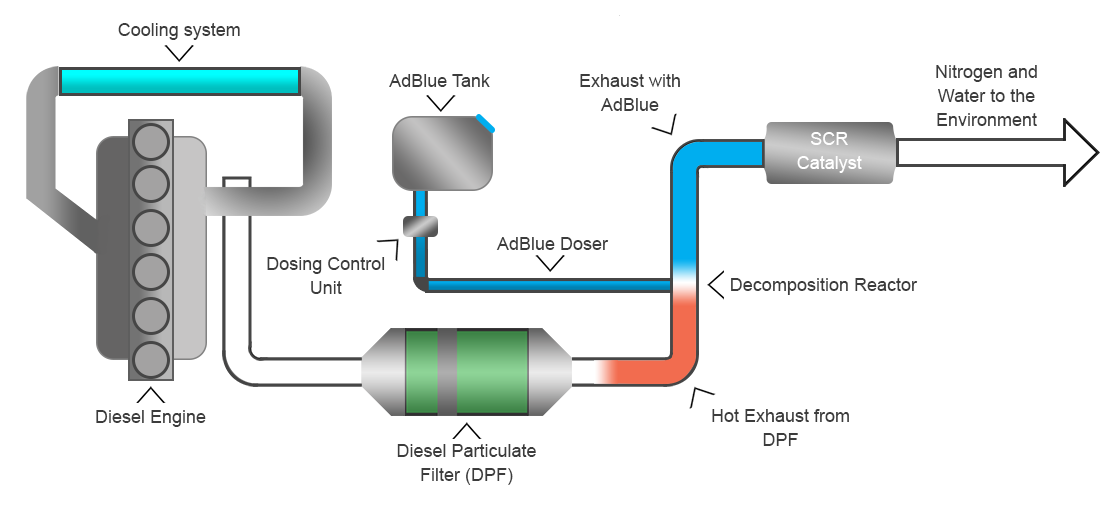 What Are the Benefits of Using Our AdBlue Tanks?
Our tanks are guaranteed to stay in full working order for 10 years
Nice and easy to install
Completely corrosion and rot free
Can be ordered with a selection of fitments, including ladder stays, lockable lids, and crane lifting lugs
How Can I Make My AdBlue Supply Last Longer?
To make sure your AdBlue supply lasts as long as possible, it needs to be kept at the right temperature. If you can keep it between 0ºC and 30ºC then it will last for quite a while and remain in great condition throughout that time.
It is always important that you store your AdBlue properly. The chemical is quite susceptible to contamination, either because of a foreign substance or poor storage. That is why it's vital you find a good supplier of AdBlue tanks so your supply doesn't get contaminated.
Why Come to Us for AdBlue Tanks?
Whenever you need fuels or lubricants delivered, we should be your first port of call. We can get the fuel you need delivered directly to you within 48 hours of placing your order. We can even get it to you in less than 24 hours with our emergency fuel delivery service.
Our customer support staff is among the very best in the business. Regardless of whether you want to place an order or you need some support and advice, they are always ready to help.
We are one of the leading fuel and lubricant suppliers in the UK. Regardless of where you are based, we will be able to deliver the fuel you need.
We offer priority contracts for businesses that simply can't go without fuel. We can tailor your contract to suit you and deliver the fuel you need within a matter of hours.