Fuel & Red Diesel Suppliers Barrow-in-Furness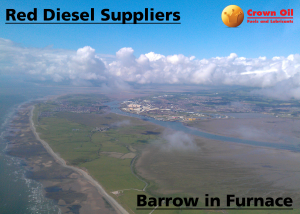 Crown Oil supplies fuels and lubricants to many homes and businesses throughout the UK. For over 65 years, we have grown in size and strength to be one of the leading red diesel suppliers in Barrow-in-Furness.
The North West is constantly developing and the landscape changes year on year and here at Crown Oil, we find ourselves supplying the area with more and more fuels all the time.
Red diesel (also known as gas oil) remains one of the most robust fuels for agricultural, horticultural, marine, construction and commercial use. If you work within these industries, chances are you'll understand the importance of commercial gas oil. That's why when you're looking for the right fuel supplier, you need one which can deliver the amount of gas oil which you need, on time and when you need it!
Buy our fuel in bulk or by the barrel:
Red Diesel
Diesel
Kerosene
Heating Oil
If you plan to buy red diesel in bulk or by the barrel, or need any help and advice. Speak to our fuel experts today on 0845 313 0845 or alternatively get a free online quote by filling in the forn on this page.
Supplying Red Diesel Across Barrow-in-Furness
Located in the County of Cumbria, Barrow-in-Furness is the second largest town positioned at the end of the Northern coast of Morecambe Bay. Commonly referred to as Barrow, it was once a hamlet renowned for fishing. In the 19th Century, large hematite deposits were discovered which gave rise to the production and export of steel during the industrial revolution, which saw the population of Barrow-in-Furness grow from 150 people to 40,000 in less than a decade.
Barrow became Barrow-in-Furness when it joined with neighbouring towns and districts and is only beaten in size by neighbouring Carlisle as the largest town in Cumbria. Still to this day, it remains a town of industry and agriculture made up of many working class people (known as Barrovians). It's home to dockyards (which at one time were some of the largest in the world) as well as being packed with beautiful rural areas too!
The good people of Barrow-in-Furness buy red diesel, kerosene, heating oil and lubricants in bulk and barrels. We offer same day deliveries for all fuels to Barrow-in-Furness as well as fuel management services and priority contracts. As well as supplying fuels to Barrow, we offer nationwide deliveries and services throughout the UK.
To find out more, call today on 0845 313 0845 and speak to one of the team. They'll be able to answer any questions you have and provide you with a quote.
North-west areas that we also supply red diesel to include: