Red Diesel and Fuel Suppliers Cheshire
Choose Crown Oil for red diesel in Cheshire. For over 65 years, we have been a leading red diesel supplier in the Cheshire area. We pride ourselves on unbeatable customer service, product quality and delivery options; offering same day and next day deliveries when you need fuels in an emergency.
Call us on 0845 313 0845 get a the latest red diesel prices in Cheshire!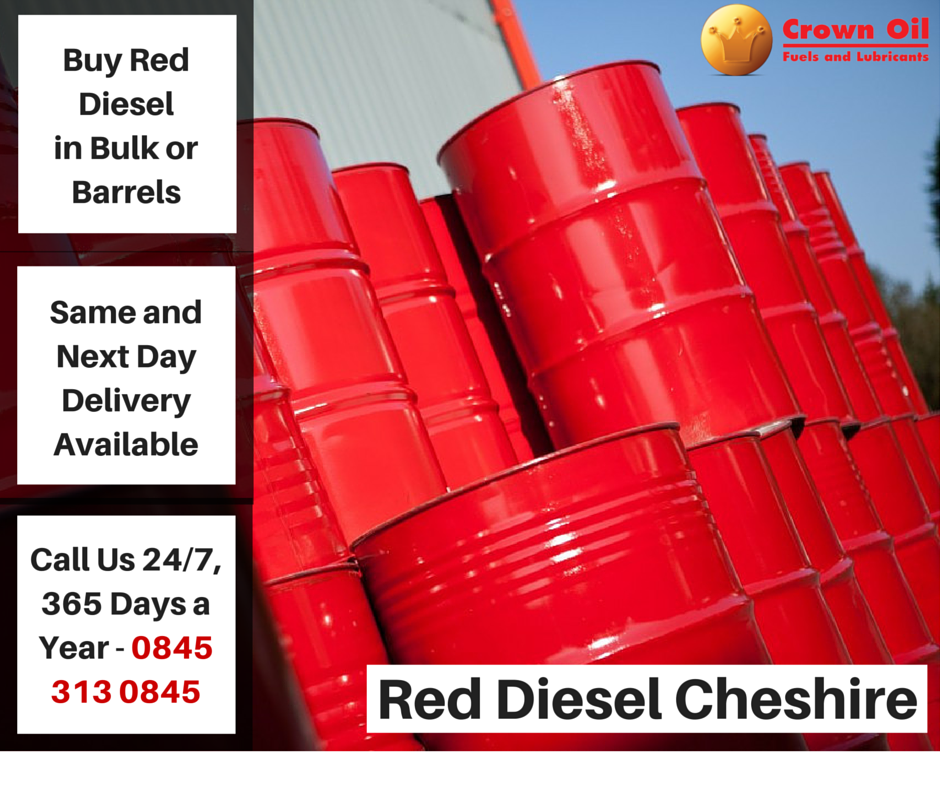 Excellent Customer Care
Whether you're buying 205-litre barrels of red diesel or bulk quantities of 500 – 36,500 litres of gas oil Crown Oil will always provide you with the highest-quality service. From ordering your fuel to your delivery and beyond, our experienced staff are available 24/7 to help.
Buy Quality Red Diesel Fuel
Excellent service means nothing if it isn't combined with a quality product. Crown Oil deliver the highest-quality red diesel fuels for your tractors, plant, machinery and generators.
As a quality red diesel supplier in the UK, Crown Oil can deliver gas oil in all areas of Cheshire quickly and efficiently. Call us now on 0845 313 0845 for a free quote!
Red Diesel Deliveries in Cheshire
At Crown Oil we pride ourselves on quick deliveries and full availability on fuels including red diesel. Whether you require gas oil next month or next day we can supply you with fuel in almost any quantity when you want it.
We can also deliver more than one fuel at one time for example, you may require 10,000 litres of red diesel and 5,000 litres of heating oil. We can deliver both fuels to you at the same time to cut down on time and cost. All of our fuels can be ordered this way.
Ready to buy red diesel in Cheshire? Call us on 0845 313 0845
CALL US NOW ON 0845 313 0845 FOR MORE INFORMATION
Red Diesel Cheshire
Bordering both Greater Manchester and Merseyside, the beautiful county of Cheshire lies perfectly situated in the north west of England. Thousands of businesses thrive here and as a result require fuels on a regular basis to help keep their operations in full swing.
As well as businesses, domestic fuel users in Cheshire also rely on Crown Oil to deliver their heating oil and red diesel to help keep their homes warm and cosy; especially in the winter months when the temperatures drop considerably.
We offer a wide variety of fuel products in Cheshire, UK, some of which are listed below:
Home heating oil
Kerosene
Regular diesel (derv)
Industrial heating oil (gas oil alternative)
We also offer a range of services including emergency red diesel deliveries, fuel uplifts, waste fuel collections and free fuel management.
Ready to buy red diesel? Call us on 0845 313 0845
North-west areas that we also supply red diesel to include: