Driving Down Carbon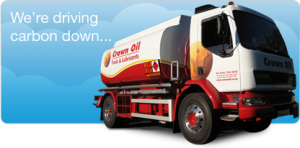 We are proud to announce we have offset our delivery miles for 6 years in a row now!
We realise harmful carbon emissions are produced in delivering oil to your home, company or site, that's why we have been driving down carbon since 2008.
We aim to differentiate ourselves from traditional fuel distributors and reduce the impact on the environment by offsetting the carbon emissions associated with the delivery of oil / fuel to you. The carbon offsets we buy are used to reduce carbon dioxide emissions through projects that prevent the release of CO2 into the atmosphere, or absorb it by planting trees.
Thanks to our growing customer base, we have been driving down carbon by offsetting the deliver mileage of our tankers for the past 6 years.
By choosing Crown Oil you will be driving down carbon and contributing towards a greener future. Buy in bulk or with a neighbour and you will save even more CO2 emissions by reducing the number of miles an oil tanker travels to deliver its oil to you and your neighbours. Furthermore, you save money by purchasing fuel as a group.
*Please note, no extra costs will be incurred in the price of the products purchased from Crown Oil and the cost of the carbon offsets will be fully funded by the Company.
USEFUL INFORMATION
Our Commitment
Energy Saving Tips
Oil Storage Regulations