Emergency Fuel & Oil Delivery
Emergency Red Diesel, Gas Oil, Diesel and Kerosene Deliveries! Call us now for delivery in your area! 0845 130 9777 – 24/7 (Business Customers Only)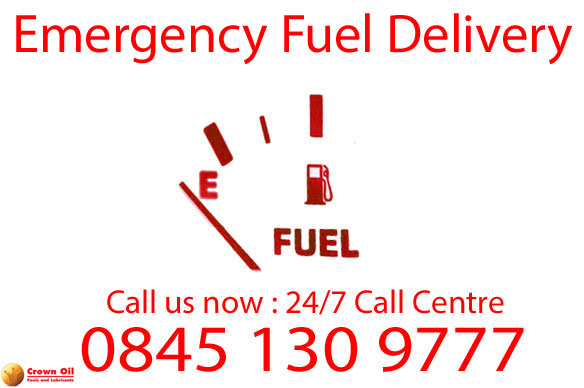 We specialise in arranging out of hours emergency red diesel, diesel and kerosene fuel deliveries for a wide variety of business customers, ranging from blue chip companies and the public sector through to generator companies and care homes.
We have at our disposal the use of over 800 oil tankers strategically placed throughout the United Kingdom, guaranteeing a true nationwide coverage in any emergency.
Crown Oil's emergency fuel delivery service direct to your site or, if you need your fuel elsewhere, we'll deliver it to any required location.
Please ask yourself the following questions before you call us for emergency fuel delivery:
Do you need a delivery in the next few hours?
Are you a commercial/industrial or public sector organisation?
Are you able to arrange payment via credit card or relevant purchase order?
If the answer is yes to the above then call us now on:
0845 130 9777 – 24/7 Availability (business customers only)
*Please note that additional charges will be incurred on any out of hours deliveries dependant on the individual of each delivery.
With our rapid fuel supply service, we can deliver fuels on-site whatever you want, whenever you want them, and always on time.
We can deliver fuel in bulk quantities from 500-36,000 litres, and for smaller amounts, we can supply 205-litre drums.
We have been providing a reliable and dependable service for over 65 years. Our business customers know that they can always rely on our 24/7 emergency fuel delivery.
Our Guarantee – We won't be beaten on service!
Crown Oil is proud to be one of the most experienced on-site fuelling companies in the industry and we are totally committed to always provide the highest level of service. Even when you need fuel urgently!
It doesn't matter whether it is Saturday, Sunday or a Bank Holiday Monday, Crown Oil won't let you down in an emergency. Our deliveries of emergency fuel are ready and waiting for you now. Pick up the phone and get the best deal on emergency fuel today!
Some of the fuels that you can order from us under the emergency fuel service include:
Emergency Red Diesel
Emergency Gas Oil
Emergency Diesel (derv)
Emergency Heating Oil
Emergency Kerosene
Order yours now on 0845 130 9777
Emergency Fuel & Oil Deliveries
The 24/7 out of hours fuel delivery service is for emergencies only. If you're looking for a normal fuel quote, please fill in the Crown Oil enquiry form on this page.
Please don't fill out the quote form for emergency red diesel or any other fuels as the system may not notify us in time for your delivery! For urgent fuel deliveries please call now on 0845 130 9777 – 24/7 (business customers only). Don't let your emergency fuel supply get too low before it's too late!