Fuel Polishing Service
Looking For A Fuel Polishing Services?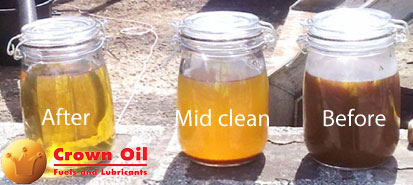 Then Crown Oil can help you in your fuel polishing needs. Please scroll down to our contact form or give us a call on 0845 872 3344 where one of our team will be more than happy to talk with you in more detail about your fuel polishing needs.
Fuel Polishing Service – What is it?

Fuel Polishing is a method of getting dirty fuel that has been contaminated with sediment, sludge, algae or water to name a few things, back into a usable state. Fuel polishing is inexpensive compared to the damage the fuel could cause to your machinery if used. Most people are not even aware that their fuel has become contaminated and needs to be cleaned / polished until its too late and their equipment has been damaged from the dirty fuel.
Please fill in our form below, and one of our fuel polishing specialist will be in contact shortly to discuss your needs. We do currently offer a free onsite survey to assess your fuel quality.
Fuel Polishing Service
Crown Oil are an award winning environmental services company. We can clean up to 400 litres per minute, and we have done this for some of the biggest fuel /energy companies in the UK.
Thanks again for visiting our site today, and we hope you have found what you are looking for. Below are other fuels & services that we offer.
Extra Services That We Offer:-
Fuel & Lubricants That We Offer:-
Please click here for our Fuel Cleaning Services