Transport
In today's ever competitive transport industry, we believe that offering you up to date fuel prices and some of the longest payment terms in the industry is essential to keeping you one step ahead of the competition.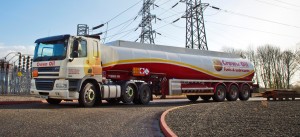 The benefits of working with Crown Oil
1. PEACE OF MIND – Feel secure in the knowledge that we offer a next day delivery service, with the ability to deliver the same day in emergencies.
2. BETTER CASH FLOW – We offer some of the longest, most flexible credit terms available in the industry.
3. REAL TIME PRICE INFORMATION – Our up to date, accurate pricing system enables you to make an informed decision on when to buy your fuel.
4. METERED DELIVERIES (1000-36,000l) – To make sure you get every litre of fuel you paid for, we measure every one of our deliveries down to the last drop.
At Crown Oil, we're very proud of the excellent service we provide for our customers and would welcome the chance to show you what we are capable of.
If you would like an up to date price for diesel, or would like to know which way the market is moving, all you need to do is get in touch.
Ready to order? Give us a call on 0845 313 0845.
Click here for more information on AdBlue or lubricants.