Heating Oil
Current Heating Oil Prices
Allow Crown Oil to reduce your heating oil costs today! Our experience in the oil business over the last six decades has helped us build a broad knowledge of our products which, in turn, helps us secure cheaper prices for our heating oil customers.
We always offer the most current heating oil prices to business owners and homeowners over the phone. More importantly, we ensure each delivery is right for you and your fuel oil is delivered to you when you actually need it. This can't be said for some other suppliers out there.

Crown Oil is a nationwide fuel supplier in the UK. Our distribution is available on a same day & next day basis, perfect for emergency fuel deliveries, and available for flexible deliveries to work around you.
What is Heating Oil?
Heating oil (fuel oil) is a cheap fuel for your industrial heating or domestic heating systems. It is generally used by large commercial settings which require industrial heating for warmth as well as domestic customers who live in areas which aren't connected to the national grid. Crown Oil is a leading UK fuel oil distributor offering nothing but the best service 24/7.
Call us now on 0845 313 0845 to order yours today!
What is Heating Oil also known as:
Heating oil is known by a wide variety of other names which you can find in the list below. Some are the same product and some have slightly different specifications. You can click on the different names to find out more details about that particular fuel.
Boiler Juice
Burning Oil
28 Second Heating Oil
Industrial Paraffin
C2 Kero
Standard Kero
Fuel Oil
Our heating oil is of the highest quality and its availability through our depots is second to none!
Which Heating Oil Do You Need?
Depending on your requirements for heating here at Crown Oil, we supply 2 different types of fuel. You can find the details about the two options below:
Home Heating Oil – Home fuel oil is perfect for home-owners who need burning oil for their central heating. Domestic users can benefit from our tailored deliveries which means when you order heating oil from us, we deliver it when you need it!
Industrial Heating Oil – Crown IHO is our own blend of Industrial fuel oil. It is a leading fuel product within its market and is designed for commercial customers. This incredibly cheap, yet extremely reliable, fuel can even save you money against the current cost of gas oil for heating purposes. We're so proud of our industrial heating oil that we put our name to it!
Click the product you require or call us for more information on 0845 313 0845
Heating Oil Deliveries From Crown Oil
Sometimes, the cheapest heating oil doesn't always give you the best value. Unfortunately, some companies who deal with oil prices don't actually control when it's delivered to you. So you might save a penny here or there per litre but you might be waiting around all day (or all month) for your delivery.
To enable a truly nationwide heating oil delivery service, with a same day or next day delivery option we have strategically-placed fuel oil depots in the UK; where we store our heating oil ready for distribution. Below is a list of our larger oil depots:
Manchester – Allows us to deliver heating oil to a wide range of northern towns and cities including Manchester.
London – Facilitating our fuel oil deliveries in the South of England.
Doncaster – Excellent heating oil coverage in the North East.
Nationwide – Utilising our huge distribution network for fuel oil supplies in the UK.
Crown Oil is a leader in the manufacture and delivery of industrial heating oil…
This is because we actually manufacture our own Crown IHO and buy our domestic heating oil in huge quantities; storing it for when you need it. This enables us to not only compete with cheap heating oil suppliers, but we can deliver fuel oil the same day or next day to ensure your home or business remains heated. This also makes us a much better option than comparison sites and group buy schemes.
Heating Oil When You Need It!
Heating oil is needed throughout the United Kingdom for both industrial and domestic heating purposes. Pleasure-craft owners also require heating oil for their heating systems and other applications for heat require oil fuel too.
Whether you need 205 litres or 205,000 litres, Crown Oil can supply fuel oil to you when you need it!
You can purchase heating oil from us your way with our very flexible payment terms. It doesn't matter whether you're a domestic oil (home heating oil) user or an industrial fuel oil user looking to heat your warehouse or factory Crown Oil, can save you money and deliver quality oil fuel when you need it!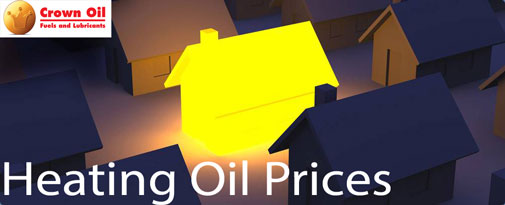 What Does Heating Oil Cost?
Fuel oil prices tend to fluctuate day to day. There are hundreds of reasons why this happens to the price of heating oil but, the common influences are listed below to help give you a clear understanding:
Crude oil price changes – The price of oil changes daily and this is one of the main influences on heating oil price.
Location of your fuel oil supplier – If you choose a local heating oil supplier and your delivery is out of their local area, chances are you'll end up paying extra to make up for their deliveries.
The quantity of oil required – If you are purchasing a small volume of fuel oil, you may find yourself paying a higher price per litre for heating oil with some suppliers.
Delivery requirements – If you require a delivery overnight or within a couple of hours, you may have to pay a higher heating oil price per litre.
There's nothing stopping you getting a quick quote for oil by filling out our simple quote form online but, if you like the sound of a friendly voice on the other end of the phone then we'd love to hear from you now! Call us for our current heating oil prices on 0845 313 0845!
Why Choose Crown Oil For Fuel Oil?
As a family-run business, we believe that our excellent service is paramount to our success. This superior level of service combined with first-class product knowledge has made us one of the nation's leading fuel suppliers in the UK.
Advantages of buying heating oil from Crown Oil:
Fast & personalised fuel deliveries
Next day & same day delivery options
Small tankers for properties with restricted/difficult access
Large tankers for bulk fuel oil orders
Free advice on heating oil
Replacement plastic/steel tanks
Direct debit payments accepted
Credit card payments accepted
We provide storage solutions for all types of fuels. We cater for domestic, commercial and agricultural requirements at the most competitive prices. We also offer full technical support on all of our fuel oil products and services.
Flexible Payment Options
With Crown Oil, you need not worry about your heating oil costs! As one of the largest, independent fuel suppliers we can help you with flexible payments for fuel oil orders. If you're running low on fuel oil but you don't want to pay all in one go, speak to us about our flexible fuel oil payment plan!
Why Choose Crown Oil over comparison companies and local suppliers?
Our independence enables us to offer extremely competitive oil prices, as well as flexible payment terms and sensible delivery options.
92% of our heating oil deliveries are completed within 24 hours. This makes us one of the fastest boiler juice suppliers in the UK!
By combining flexible deliveries with competitive fuel oil prices you'll receive first-class treatment every step of the way.
Unlike heating oil price comparison sites, which have recently popped-up here and there online over the last few years, we have over 65 years' experience in the commercial heating oil and home heating oil market. It makes us the number one choice for anybody in need of low heating oil costs from actual suppliers.
With prices like ours, why waste time with a heating oil price comparison?
We are very proud of the service we provide for our customers and would welcome the chance to show you just what we are capable of.
Call our team on 0845 313 0845 now!
Popular Heating Oil Variants
As well as industrial heating oil and home heating oil, depending on your type of boiler you may be able to use other fuels for heat.
Kerosene oil is used in heating systems fitted in domestic premises and industrial premises for processes requiring low-sulphur fuel. Kerosene is sometimes used as another term for heating oil.
Kerosene's clean burning characteristics maintain a high heat output and maximum economy. For many years, it has been the most economical fuel for domestic central heating systems and prices have always been considered cheap.
Red diesel (gas oil) can be used to heat properties as well as kerosene and fuel oil. Depending on red diesel prices, red diesel can sometimes work out to be a cheap alternative, rather than other options available.