Industrial Heating Oil
Industrial Heating Oil – Crown IHO
Switch from Gas Oil / Red Diesel Today & Save

Crown Industrial Heating Oil is specifically intended for use wherever Class A2 or Class D Gas oil can be used for the production of hot water, steam or other forms of heat generation. i.e. boilers, dryers, heaters & furnaces.
Our industrial heating oil is a fully rebated product (nil excise duty), it is strictly prohibited for use in both on and off-road vehicles or any other static or mobile engines.
Call us now on 0845 313 0845 to find out how much money we could be saving you.
The below video explains how you can switch and save with Crown Industrial Heating Oil.

Please call us now on: 0845 313 0845 to discuss IHO in more detail.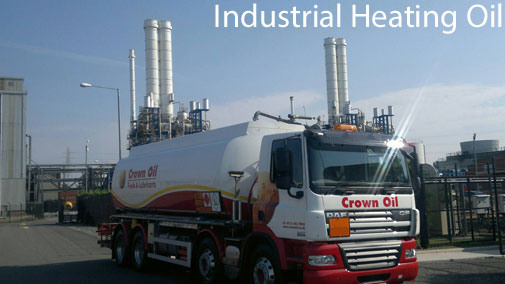 Our industrial fuel oil is not only high quality, but our competitive industrial heating oil prices make ordering from Crown Oil a complete no brainer! Call us today to order IHO in quantities from 500 – 36,500+ litres.
Crown IHO Features & Benefits
Compatible with BS2869 Class A2 10 ppm & Class D 1000 ppm (except for Cetane Value) – British Standard for heating oil.
Same calorific value as Gas Oil – same heat output for less money.
Same physical properties as Gas Oil – no burner modifications required.
Totally miscible with Gas Oil – no need to empty fuel tanks before changing to Crown IHO.
Low CFPP/pour point – allows year round summer/winter performance.
Reduced sulphur content – lowers acidic flue gas emissions by up to 50% compared to Class D gas oil.
FAME/biodiesel free – reducing the potential for a bacterial attack on the stored fuel.
Contains multifunctional additive – provides fuel system cleanliness & corrosion protection, reduced emissions and combustion chamber deposit control.
Light colour, low odour, sediment-free – much cleaner than some commercially available products.
Applications & Limitations For Industrial Heating Oil – IHO
Crown IHO is specifically intended for use in commercial boiler applications for heat generation. It typically finds application in large public buildings, hospitals, schools, factories, hotels, distilleries, quarries and grain dryers.
Crown IHO is a fully rebated product (nil excise duty) and is therefore strictly prohibited for use in both on and off-road vehicles or any other mobile or static engines.
Crown Oil has been supplying industrial heating oil and commercial burning oil for over 65 years. We supply a wide range of different industrial fuels and lubricants to small local companies and some of the biggest national companies throughout the UK.
Why Buy Industrial Heating Oil From Crown Oil?
We Offer: –
Low Prices
Same or Next Day Delivery
Long & Flexible Payment Terms
High-Quality Fuels
A Personal Service & 
Great Customer Support
To get the very latest price on your industrial heating fuel, then please call us on 0845 313 0845 or fill out our quick contact form.
Our nationwide deliveries of industrial heating oil (IHO) are made possible by having oil depots in the following locations:
Glasgow
Newcastle
Yorkshire
Nottingham
Manchester
Chester
Stafford
Cotswolds
Oakley
London
Slough
Cardiff
Somerset
The Midlands
With our emergency deliveries, you can buy IHO today and have it delivered today, tomorrow or when you need it!
Thanks again for visiting us today. If you need any other fuel or lubricant related products for industrial or commercial use, please feel free to select one from below.
For any other queries relating to industrial heating oil, please give our friendly team a call on 0845 313 0845