Your Local Oil Company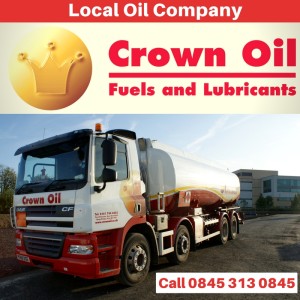 If you are looking to order quality oil from a local oil company and at the best possible price then give us a quick call now on 0845 313 0845 and speak with one of our experienced staff.
We can supply the oil you need today and at the best possible price.
We have been around for nearly 70 years, operating as a family-run, independent fuels and lubricants supplier. You can order fuel products for delivery throughout the UK, and we can offer you competitive local oil prices – thanks to our healthy relationship with oil refineries and massive buying power.
Here are some benefits to choosing Crown Oil as your local oil company:
Strategically positioned fuel depots: Our true national coverage across the UK enables us to get fuel deliveries to you quickly.
Same or next day fuel delivery service: We can deliver fuel when and where you need it with an additional emergency fuel service also available if needed.
Buy fuel in many quantities: No order is too small or too big! From a single barrel to a large tanker, we can meet your order requirements.
Dedicated account manager: One point of contact who has the knowledge of the oil markets and can help manage your account with a personal touch.
Flexible payment terms: We have some of the longest payment terms around, to give you flexibility. Find out more about our various payment methods accepted.
Outstanding Customer Service: We take pride in serving you as best possible, and our highly trained staff can provide technical support for any fuel related queries.
Competitive Local Oil Prices
Our many years of experience within the fuels industry has enabled us to negotiate competitive local oil prices with savings passed on to you. There are several ways you can get in touch for the latest oil prices:
1. Give our fuels team a call on 0845 313 0845. They will be able to quote you on your specific needs, depending on quantity ordered and area for delivery.
2. You can also fill in our online fuel quote form for a price in your area. You can select options for fuel type and quantity needed.
3. Our fuels team can also be contacted through our Live Chat tool. You can reach out to them at any time for a quick response.
Give Crown Oil a try if you need to order fuels or lubricants and see why so many customers choose us as their local oil company of choice. We can supply a range of quality fuel products, lubricants, ancillary tanks and dispensing equipment. You can also benefit from our wide range of related fuel environmental services, designed to help businesses with fuel maintenance and environmental responsibilities.
Call us now on 0845 313 0845 for any assistance.