Oil Manufacturer
Looking for a reliable and highly knowledgeable Oil Manufacturer for your business…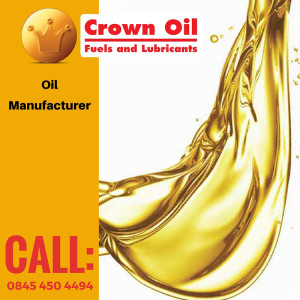 Then look no further for your next oil manufacturer than Crown Oil.
With over 70 years' of expertise as a family-run business, we are fully committed to your oil and lubrication needs.
You can benefit from our low prices, local knowledge, quick delivery turnaround and excellent service.
Call our oils team on 0845 313 0845 to learn more or request a quote.
Here are some reasons to choose Crown Oil:
✓ We have a wide range of oils and lubricants blended in-house
✓ Technical support available from our lubricant experts
✓ We offer our own blend OEM lubricants
✓ Various quantities available from small pack sizes to larger bulk orders
✓ Quick turnaround for normal orders typically within five days
✓ Emergency deliveries of oils and lubricants also available if needed
Find out what makes us one of the leading oil manufacturers in the UK and give us a try by calling us on 0845 313 0845 when you need to order your oils, lubricants and greases.
All the oils you'd expect from an oil manufacturer
As your expert oil manufacturers, we can deliver a variety of lubricants and oils used in the industrial and commercial industries. These include fully synthetic, passenger car and heavy duty diesel engine oils, biodegradable, hydraulic and gear oils as well as rubber process and transformer oils. We also supply metal working / automatic transmission fluids as well as multi-purpose greases.
Crown Oil are also oil manufacturers and distributors for Total Lubricants, who we have developed an excellent relationship with in addition to other established lubricant manufacturers. The strong links we have developed with them puts us in a unique position to offer you a wider choice of options for all your oil and lubrication needs.
Our technical support centre offers fluid testing, in-depth analysis and troubleshooting on oil samples by a team of full-time chemists and technicians. From analysing samples to testing for oil contamination, our team are industry experts with many years of experience behind them.
As well as ordering oils and lubricants, you can also benefit from our range of related fuel services which you can learn more about on our dedicated website – www.crownoilenvironmental.co.uk.
Our specialised fuel services include:
Call our specialist oils team for any advice and get the latest prices available – 0845 313 0845. You can also fill in the enquiry form below for a quick response: