Carbon Offset Red Diesel
The UK's first Carbon Offset Red Diesel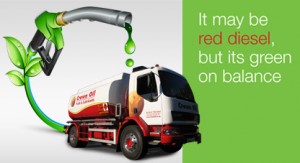 We're inviting YOU to balance
the impact of the Red Diesel YOU USE!

Here at Crown Oil, we have put arrangements in place with a leading carbon offset provider to offer a new 'green' fuel called Carbon Offset Red Diesel to our customers.
How does it work?
You don't need to make any changes or special arrangements in order to use carbon offset red diesel. In fact, there is no difference to the fuel itself, it's the same Diesel with Red Dye added as you currently use.
Instead, the little extra you pay for your fuel goes towards funding carbon-reducing initiatives across the world, effectively counteracting the carbon you release by using the fuel.
Benefits of Carbon Offset Red Diesel (C.O.R.D.)
There's a range of benefits and reasons for choosing to use Carbon Offset Red Diesel, in place of your regular Red Diesel supply.
✓ A sustainable way to satisfy your Red Diesel needs
✓ Can be used to contribute to your company's carbon reduction commitment (for example, you can mention C.O.R.D. in your Corporate Social Responsibility report)
✓ C.O.R.D. will complement any other initiatives that you already take towards achieving a better environment
✓ Positive PR for your company
✓ Can help improve your relations with those who share your concerns, including your customers, local communities and your target media
✓ Many offset projects lead to improvements in the quality of life for a local population, e.g.  replacing wood burning stoves with solar ovens in Africa – no need to collect firewood, no greenhouse gas pollution
✓ A cleaner and safer world for you and your future generations
To learn more about ordering C.O.R.D. and how it can further your green credentials. Call our friendly team today on 0845 313 0845 for a quote.