Carbon Offset Red Diesel
The UK's First Carbon Offset Red Diesel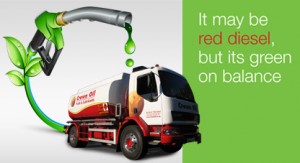 We're inviting YOU to balance the impact of the red diesel YOU USE.

Crown Oil has made an arrangement with a leading carbon offsetting provider to offer a new 'green' fuel called Carbon Offset Red Diesel. You could say that it is green fuel or green diesel.
To order yours or enquire about CORD further please call us – 0845 313 0845
Businesses are under increasing pressure from the government and consumers to reduce their carbon footprint.
We decided to help those companies by offering red diesel that has been totally carbon offset. This includes the delivery of the fuel itself. This way, companies engaged in carbon counting can use Crown Oil's red diesel to reduce their carbon emissions.
The new 'green' diesel is available to all business types who have a requirement for red diesel (gas oil).
We Can Help You Reduce Your Carbon Footprint!
How does it Work?
By purchasing carbon offset red diesel (CORD), you can reduce the environmental impact of the activities undertaken by your business.
The extra cost associated with offsetting red diesel is invested into high-quality projects that prevent the release of CO2 emissions worldwide. These include; renewable energy and pollution control projects, carbon sequestration programs through reforestation, restoring wildlife habitat projects-enhancing air and water quality; etc.
The intention of these projects is to remove the CO2 in the atmosphere, that has been released through your company's red diesel consumption.
Your decision to balance the carbon emissions of your machinery's engine and heating systems, through carbon offsetting, is a practical step that will demonstrate your company's leadership in addressing the environmental impact of your activities.
With our new carbon offset red diesel, we are pleased to give our customers the opportunity to support high-quality projects which have a positive impact on our environment.
To order yours or enquire about CORD further please call us – 0845 313 0845
Crown Oil's Carbon Offset Red Diesel offers the following benefits:
Carbon dioxide reduction and sustainable development
Can be used to contribute to your company's carbon reduction commitment – you can mention CORD in your Corporate Social Responsibility (CSR) report
Carbon Offset Red Diesel will complement any other initiatives that you already take towards a better environment
Positive PR for your company
Can help improve your relations with those who share your concerns including your customers, local communities and the media
Many offset projects lead to improvements in the quality of life for a local population, e.g.  replacing wood burning stoves with solar ovens in Africa – no need to collect firewood, no Greenhouse Gas (GHG) pollution
A cleaner and safer world for you and your future generations
And…..the great feeling you experience – "We're doing our bit for the environment"
Order yours now – 0845 313 0845