CHP Biofuel
CHP Biofuel is a B100 fuel for Combined Heat and Power (CHP) generation.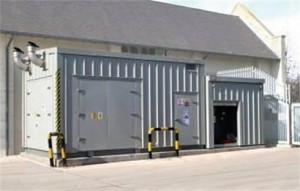 CHP Biofuel from Crown Oil is manufactured from totally renewable and sustainable sources, verifiable to OFGEM requirements. So it is fully eligible for ROCs certificates, which can reduce the cost by as much as 50% on OFGEM-approved installations.
Crown Oil's CHP Biofuel is made from a high quality 'waste oil' feedstock to produce a fuel that yields 87% less CO2 emissions than petroleum-based diesel. It is also non-toxic, biodegradeable and safe to handle.
Crown CHP Bio exceeds the minimum requirements of EN14213 – the European Standard for heating fuels.
Prior to delivery each batch of Crown Oil's CHP Biofuel is independently tested and certified for each of the key parameters of EN14213 by one of the UK's leading test laboratories.
To order CHP Biofuel, call Crown Oil today on 0845 313 0845.
*Renewable Obligation Certificates (ROCs)
Renewable Obligation Certificates are awarded by OFGEM to encourage the use of non-fossil, renewable energy sources by companies generating their own electricity for heat and/or power.
CHP Biofuel
Our fuel is made from waste oil using bio-ethanol, so fully meets OFGEM's strict requirements for ROCs eligibility and has been approved on other CHP installations. We are able to supply a letter confirming the provenance of the raw materials. You can then submit this letter to OFGEM in support of your ROCs application.
Please note that each individual site generating power or CHP must be registered and approved by OFGEM for the ROCs certificates to be awarded. This is an auditing process that will involve inspection and certification of your plant. For further information on your eligibility for ROCs and the process required please refer to OFGEM. If your power generation plant is already certified, it is a relatively simple process to achieve approval from OFGEM on our CHP Biofuel as a replacement for your current fuel.
For more information on Crown CHP Biofuel and ROCs eligibility, please call Crown Oil on 0845 313 0845.
For information on CHP generation or the ROCS renewable fuel incentive scheme, please visit OFGEM's here: