Home Heating Oil
Keep your home warm with our heating oil
Here at Crown Oil, we can supply you with home heating oil quickly, efficiently and at the best possible price. It doesn't matter however remote your location in the north west, we will ensure your domestic delivery will reach you to keep your home toasty all year round.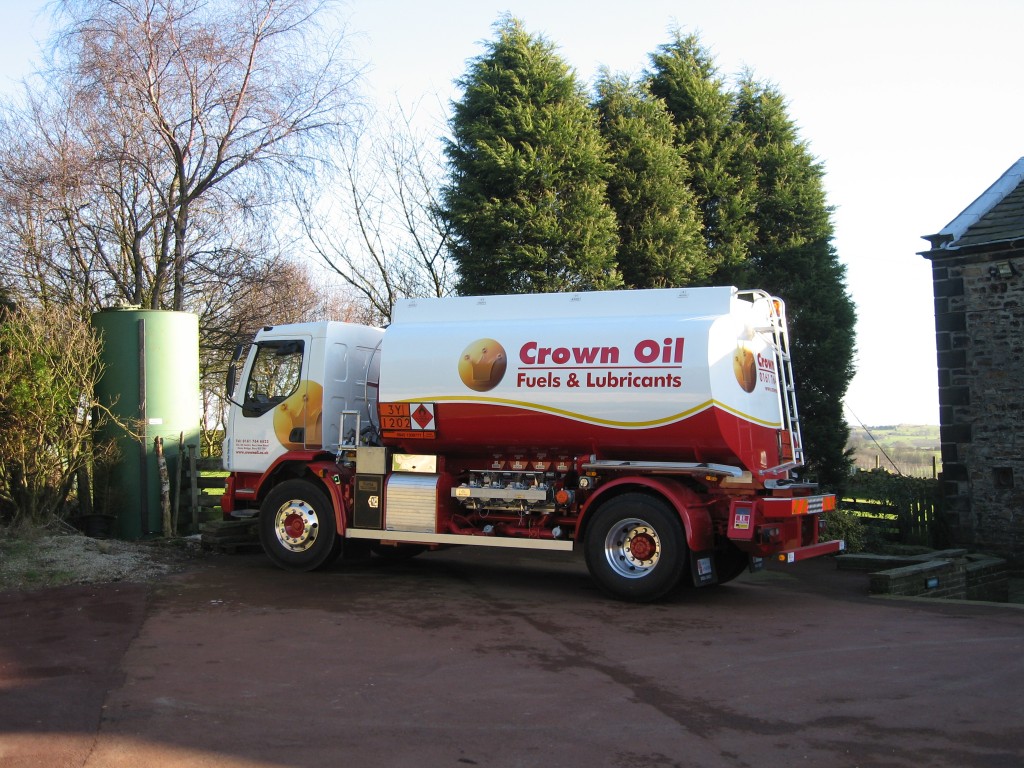 As winter approaches, the inevitable cold spells frosting up our cars during the school run or work commute mean that ensuring you have a warm and cosy home to come back to is all the more important.
For that reason, we always recommend regularly checking your heating oil levels to ensure you never run low. However, we fully understand that this isn't always possible for everybody and of course, you may find that you've used more than expected.
What if you're running low on heating oil?
If you're running particularly low and cannot wait for a regular delivery slot, we do offer an emergency delivery service to ensure you and your family receive a top-up much sooner. That way, you don't have to worry about going cold this winter.
Please note: an additional call out charge will apply for out of hours fuel deliveries.
If your home relies on heating oil, you'll be well aware of how important it is to ensure your supplies are maintained and topped up. Nobody wants to run low, or worse still… to completely run out!
To learn more about our domestic heating oil or to place an order, simply call our team on 0845 313 0845. If you're looking for an urgent or emergency delivery, please let our team know at the time of call.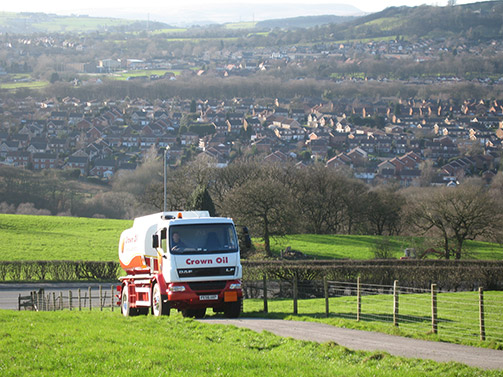 The advantages of buying home heating oil from Crown Oil
✓ We're a trusted supplier with over 70 years' experience selling and distributing home heating oil
✓ Same or next day delivery service available if you're in an emergency
✓ We'll deliver wherever you are within the Northwest
✓ Our baby tankers can deliver heating oil to the most hard to reach areas
✓ Buy in quantities from 500 – 36,500+ litres
✓ With our vast buying power, you're guaranteed a great price for your heating oil
✓ From our dedicated account managers to our delivery drivers, our service is famously friendly and personal
Ready to order? Call us now on 0845 340 3983 or fill in our quote form to order your home heating oil today.
Why do Domestic heating oil prices change?
Domestic heating oil prices fluctuate depending on several factors, such as the time of year and location.
At Crown Oil, you'll receive the very best service, support and home heating oil prices in the industry. We buy in bulk so we can pass on our savings to our customers. Our home fuel oil prices are checked daily, and we will always try to beat a competitor's price if we haven't already done so.
If you have received a home heating oil price from another company and would like to run it by us to make sure you aren't paying too much, call us today on 0845 313 0845.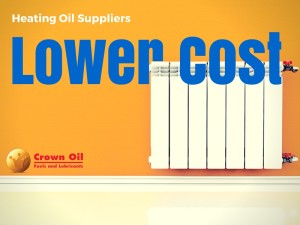 What other names is heating oil known as?
Whether you've just moved into a new property that relies on heating oil or you've been heating your home in an alternative manner to mains gas for many years, you will sooner or later come across various names for heating oil to heat your home.
As we've been supplying heating oil across the UK for many years, we can safely say we've heard all of the different names it's referred to.
For new buyers it can get slightly confusing, so here's a list of its common names:
✓ Kerosene
✓ Burning oil
✓ 28 second Heating Oil
✓ Paraffin
✓ C2 kero
✓ Standard kero
✓ Fuel oil
Are there any alternatives to regular heating oil?
Here at Crown Oil, we supply a clean-burning heating oil option for the home that maintains a high heat output whilst offering maximum efficiency.
For many years, Kleenburn Kerosene has been the most economical fuel for keeping homes toasty. Of course, it does cost a little extra, but for a cleaner and hotter burn, it's totally worth it.
To find out more information about this heating oil alternative, click here.
How can I look after my heating oil supply?
If you require a consistent supply of heating oil at your home or business place, it's important to ensure the condition of your oil and its safety into account.
Here are some tips on how you can look after your oil supply effectively:
✓ Get professional analysis – Getting your supply checked on an annual basis by professionals is a good way of monitoring the condition of your oil. Experts can check for bugs or any contamination in your tank and also clean your fuel if necessary.
✓ Look after your tank – Try and check your tank for cracks or leaks on a regular basis. If a crack is left unnoticed, it can lead to a leak which cause an environmental hazard. The sooner you spot issues, the sooner you can prevent any major issues.
✓ Purchase a suitable tank – We offer a complete range of tanks and containers in a variety of sizes, materials, shapes and capacities to suit all requirements.
If you're ready to learn more about our heating oil or would like to request a quote, you can do so by calling our friendly and knowledgeable team today on 0845 313 0845.