Industrial Heating Oil

Our Industrial Heating Oil (IHO) is the perfect alternative to using gas oil/red diesel to heat your business.
If you're looking to make the switch to IHO, place your order with Crown Oil. We've got the expertise, facilities and reputation to ensure you receive an excellent value fuel delivery, ready for when you need it.
Our Industrial Heating Oil is a fully rebated product (nil excise duty). It is strictly prohibited for use in both on and off-road vehicles or any other static or mobile engines.
Why choose us to be your IHO supplier?
✔ We're a trusted supplier with over 70 years' experience selling and distributing fuels and lubricants
✔ Same or next day industrial heating oil delivery service available if you're in an emergency
✔ We'll deliver wherever you are – we really do offer true national coverage!
✔ Our baby tankers can deliver to even the hardest to reach corners of the UK
✔ Buy our IHO in quantities from 500 – 36,500+ litres
✔ We offer some of the most flexible payment terms in the industry to suit your budget and schedule
✔ With our vast buying power, you're guaranteed a great price for your fuel
✔ From our dedicated account managers to our delivery drivers, our service is famously friendly and personal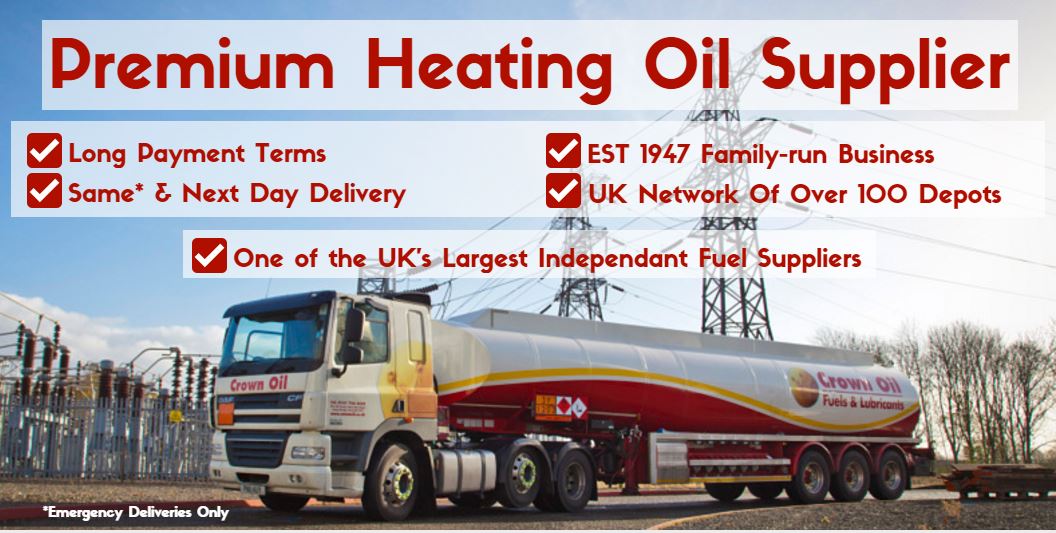 Ready to order? Call us now on 0845 340 3983 or fill in our quote form to order IHO today.
---
What applications are suitable for IHO?
Crown IHO is specifically intended for use in commercial boiler applications for heat generation. It typically finds application in large public buildings, hospitals, schools, factories, hotels, distilleries, quarries and grain dryers.
Crown IHO is a fully rebated product (nil excise duty) and is therefore strictly prohibited for use in both on and off-road vehicles or any other mobile or static engines.
What's unique about Crown Oil's IHO?
Our IHO possesses the following features and benefits:
✔ Compatible with BS2869 Class A2 10 ppm & Class D 1000 ppm (except for Cetane Value) – British standard for heating oil
✔ Same calorific value as gas oil – same heat output for less money
✔ Same physical properties as gas oil – no burner modifications required
✔ Totally miscible with gas oil – no need to empty fuel tanks before changing to Crown IHO
✔ Low CFPP/pour point – allows year-round summer/winter performance
✔ Reduced sulphur content – lowers acidic flue gas emissions by up to 50% compared to Class D gas oil
✔ FAME/biodiesel free – reducing the potential for a bacterial attack on the stored fuel
✔ Contains multifunctional additive – provides fuel system cleanliness and corrosion protection, reduced emissions and combustion chamber deposit control
✔ Light colour, low odour, sediment-free – much cleaner than some commercially available products
Nationwide delivery made easy
Our national deliveries of industrial heating oil are made possible by having oil depots in the following locations:
✔ Glasgow
✔ Newcastle
✔ Yorkshire
✔ Nottingham
✔ Manchester
✔ Chester
✔ Stafford
✔ Cotswolds
✔ Oakley
✔ London
✔ Slough
✔ Cardiff
✔ Somerset
✔ The Midlands
Wherever you are in the UK, our vast network of depots ensures we'll always be able to reach you quickly.
To place an order, call  0845 313 0845 today.