Kleenburn Kerosene
Crown Oil has produced a new and improved premium heating oil called Kleenburn Kerosene. (Clean burning kero)
With several years of research and development behind it, Kleenburn Kerosene has been developed to improve oil-fired boiler efficiency and a massive reduction in home heating costs.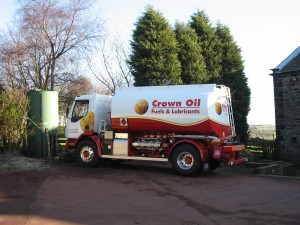 Crown Oil's Kleenburn Kerosene has been designed and developed to offer home heating oil users these benefits:
Reduced carbon build-up
Fragrance enhanced to eliminate odours
Reduction in sludge formation
Improved fuel efficiency from enhanced burner activity
Increases boiler performance
Can be mixed with any standard kero
Environmentally friendly – Lower CO2 emissions
Kleenburn Kerosene works with all boilers
Crown Oil's Kleenburn Kerosene is proving very popular with lots of our long-standing heating oil customers, many choosing to swap from regular kerosene altogether.
Call now to buy Kleenburn Kerosene 0845 313 0845 or speak to one of our friendly advisers.

How Does Kleenburn Kerosene Work?
So, is there a cleaner kerosene fuel than the one you're using? The simple answer is yes, there's our new Kleenburn Kerosene which emits fewer pollutants when burned. It's all well and good knowing there is a cleaner burning fuel for your heating system but, how does it work and is it worth using?
Kerosene is used to provide heating to your home through a boiler.
As time goes by, oxidant deposits build up in your boiler making it difficult for the fuel to get through.
When these deposits build-up, your boiler will automatically use more energy to keep your home warm.
To stop this from happening, anti-oxidants have been added to Kleenburn Kerosene.
Your boiler will remain clean and efficient by using Kleenburn Kerosene.
You could say our Kleenburn Kero is a green and eco-friendly heating oil. Its improved burning formula greatly reduces harmful emissions meaning you'll be helping to protect the environment by using it. If you would like to know more about the efficiency and cost of Kleenburn Kero, please talk to one of our advisers today.
Buy Kleenburn Kerosene now! Simply fill out the order form on our website or pick up the phone and tell us how much you need. We can deliver small quantities – 500 litres as well as large quantities of up to 36,000 litres. What's more, we can deliver the same day or next day if you require clean burning kerosene urgently.