Metalworking Fluids
Low cost, high quality metalworking fluids
Crown Oil's metalwork lubricants can maximise sump life, reduce costs, and improve the surface finish of your tools.
In accordance with HSE recommendations, we offer a range of in-service monitoring programmes, including tests for tramp oil contamination, pH, dilution and dip-slide culture testing.
To optimise your machinery efficiency and service life, we discuss your specific requirements in detail so we can recommend or formulate the best product for you.
At Crown Oil, we realise that the industry focus on extended life, operator safety and manufacturing performance is paramount, so we produce our metalworking fluids/lubricants with this in mind.
If you would like to order metalworking fluids/lubricants from us, call 0845 313 0845
Alternatively, fill in the form below and one of our team will be in contact shortly.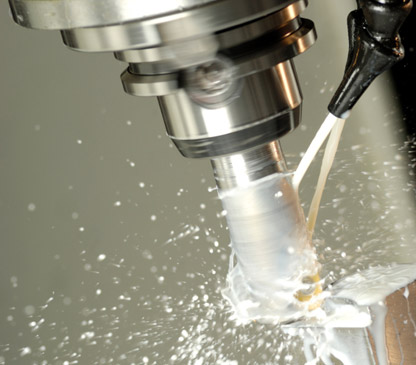 Our range has two main categories:
Water soluble fluids
Our products include fully synthetic grinding solutions, semi-synthetic translucent emulsions and a range of high oil milky products (Mystic type).
We use the most up to date additive chemistry to ensure our lubricants are suitable for the most demanding operations.
Neat metalworking fluids
Reduced consumption, improved surface finish and increased efficiency are just some of the results you will experience by choosing our metalworking lubricants.
We use the very latest additive technology to meet each individual client's application requirements. Our metalworking fluids have been formulated to meet the most delicate precision grinding applications to sawing, gear cutting, hobbing, deep-hole boring and general machining.
Corrosion preventatives
The Crown Guard product range is formulated to provide either vapour phase, waxy, greasy or oily films, and is applicable by dipping, brushing and spraying.
These products have been tested to offer enhanced salt spray protection, and corrosion protection of over two years.
Industrial lubricants
Crown Oil's industrial lubricants are designed for specific customer needs.
We supply lubricants in many grades to meet individual application requirements. All our lubricants meet and exceed the requirements of original equipment manufacturers and international standards.
Used throughout a wide range of industries, our industrial lubricant range includes:
Hydraulic oils – Mineral lubricants, high viscosity index (HVI), zinc free, biodegradable, fire resistant ester and water glycol fluids.
Gear oils – Mineral, poly glycol (PAG) and polyalphaolefin (PAO) based oils. Our range also includes non-EP and EP products for industrial gear lubricants.
Compressor oils – Our lubricants come in a range of viscosities in synthetic and mineral formulations.
Highly refined mineral oil has a lubricant drain cycle of up to 2000 hours. These are suitable for rotary compressors that have gears, bearings and oil flooded screw-type rotors. For added efficacy, they have been compounded with an ashless additive system.
Polyalphaolefin (PAO) fluids are suitable to be used in oil-flooded rotary screw compressors in the most difficult operating conditions. They can operate in harsh environments and under extreme temperatures.
Fully-synthetic ester based lubricants are used in demanding air compressor applications for their lubrication needs.
Slideway oils – for CNC machine tools enabling multifunctional operations.
Excellent lubricity – items are prevented from slipping or sticking to slideways
Superb load-carrying capacity – slideways that carry a heavy load won't wear as easily
Non-drip nature – housekeeping and production problems are avoided as they reduce staining
Machine oils – for general lubricating applications, these are a range of straight non-additive compounded mineral oil products.
Biodegradable lubricants
In the event of accidental leakage, lost oils from chainsaw chains, 2-stroke engines and hydraulic oils can be a source of pollution in the natural forestry or farming environment.
We offer state-of-the-art additive technology which is used with synthetic base and vegetable-derived oils to produce a range of biodegradable lubricants.
Where contamination of the surrounding sensitive environment could occur, you should use ecologically acceptable products which are able to biodegrade safely.
Product range:
Biodegradable engine oil
Biodegradable outboard 2-stroke lubricant
Biodegradable hydraulic lubricants
Biodegradable gear lubricants
Biodegradable chainsaw lubricants
Biodegradable mould release oils
Greases
We offer a varied product range to meet our customers' different needs.
A modern multi-purpose grease can meet the needs of almost 75% of applications requiring grease lubrication; the remaining 25% demand a large number of specialist greases.
Fortunately, our range is wide and diverse enough to take care of any industrial demand.
Standard range:
NLGI available in; 000, 00, 0, 1, 2 & 3.
Lithium grease –These are for general purpose applications
Lithium complex – When compared to standard lithium greases, these offer improved protection.
Bentone grease – These offer improved water resistance and exceptional high-temperature performance.
Calcium grease – For marine and general use, these lubricants offer excellent water resistance.
Open gear compounds
Wire rope greases
We provide lubricants for the following industries too: