Tanks
Crown Oil can supply a complete range of tanks and containers enabling us to provide the best solutions for any domestic, commercial and agricultural requirements at competitive prices with full technical support.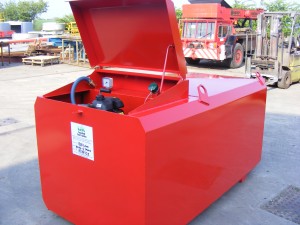 We provide storage solutions for oil, fuel, biodiesel, lubricants and AdBlue in a range of sizes, shapes and capacities to suit your needs. We offer our customers the optimum choice whatever their requirements are; this includes bunded tanks, bunded fuel dispensing units or mobile bowsers.
We offer plastic and steel bunded fuel tanks, for purchase or hire, standard sizes or made to measure to your personal specifications.
Crown Oil's plastic tanks are:
guaranteed for ten years
UV stabilised
corrosion and rot free
environmentally safe
easy to install
maintenance free
cost effective
Tanks can have the following fitments added:
crane lifting lugs
lockable lid
ladder stays
forklift access points
compatibility with latest electrical gauges
Steel tanks can be engineered to resist the toughest of conditions. They can be placed on uneven surfaces without a concrete base and made more secure from vandalism and theft which can occur on more open sites.
We offer a complete tank replacement service, including:
safe removal of fuel from the old tank
removal of the old tank
installation and connection of the new tank
refill of the new tank with specified product
We are also able to undertake site surveys, waste oil removal, interceptor and gully cleaning, etc.
We also stock all tank related products, such as pumps, hoses, fuel monitoring gauges, overfill alarms, etc.
By choosing Crown Oil's tanks and bowsers, you can be sure that your fuel is stored in a secure and regulation compliant manner. All the tanks we offer are manufactured in accordance to current OFTEC guidelines.
For professional advice on the best tank to suit your purposes call us now on
0845 313 0845.