Emergency Fuel Delivery
Are you running low on fuel and require a 24/7 urgent delivery anywhere in the UK…
Don't Delay! Call Crown Oil Today on 0845 130 9777 to request an emergency fuel delivery…
---
Here at Crown Oil, we have over 70 years experience of supplying a whole range of fuels, oils and lubricants to businesses and organisations across the UK.
If your business or organisation is reliant on getting the fuels you need, when you need them without delay. Our 24/7 emergency fuel delivery service will ensure your business or organisation is refuelled in next to no time at all.
No matter whether your business or organisation operates within the commercial, industrial or public sectors*. We're here to help, so call us now on 0845 130 9777 to place your emergency fuel order.
* Unfortunately, we are unable to provide our emergency fuel delivery service to non-business / domestic customers. For all non-emergencies and other customers, we provide our standard 24-48 hour delivery service.
---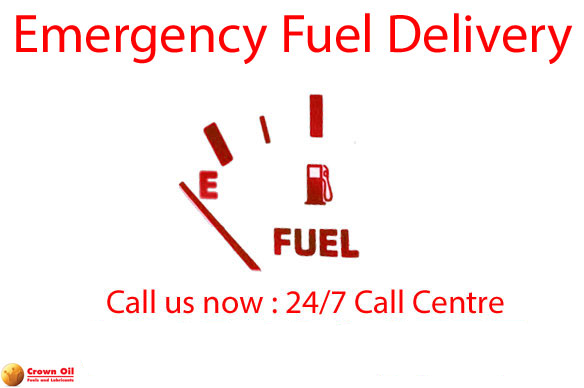 ---
When we say we provide an anytime 24/7 delivery service, we literally mean anytime of the day or night! We can deliver fuels to your business or organisation anytime on a 24 hours basis, 7 days a week and 365 days a year.
If your business or organisation is reliant on finding a reliable fuel delivery company. Look no further, as our phones are manned all day long, 365 days a year,  to ensure you get access to one of our experts all year round.
So the next time you're running low on fuel and need an emergency fuel delivery. Don't put up with long delays to refuel your business or organisation. Get in touch with the emergency fuel delivery experts by calling us on 0845 130 9777.
Our most requested emergency fuel deliveries include:
✔ Emergency Red Diesel
✔ Emergency Gas Oil
✔ Emergency Diesel (Derv)
✔ Emergency Industrial Heating Oil
✔ Emergency Kerosene
✔ …or any other fuel or lubricant you happen to need!
As one of the largest fuel and lubricants suppliers in the UK, we have at our disposal the use of over 800 oil tankers strategically placed throughout the United Kingdom, allowing us to reach you within hours wherever you are, at any time of day or night!
Priority Contracts – Priority Fuel Deliveries
One of the biggest concerns for any business or organisation is running out of fuel when they need it most! If your business or organisation is heavily reliant on a consistent supply fuel. We understand how important it is, to ensure you choose a supplier who can always meet your requirements.
You owe it to your business or organisation to discuss our priority contract service to see how it could benefit your business or organisation. Our service provides you with complete peace of mind. We guarantee to undertake your emergency delivery whenever you need it within an agreed period of time.
Before calling us to request an emergency fuel delivery, please read through the following questions:
✔ Do you need an urgent / emergency fuel delivery in the next few hours?
✔ Is your organisation a commercial/industrial or public sector organisation?
✔ Are you able to arrange payment via credit card or relevant purchase order?
If the answer is yes to all of these questions, then we will be happy to assist your business or organisation anytime 24/7 with your requirements…
To find out more and book your emergency fuel delivery, call us now on 0845 130 9777 to speak to one of our friendly team who will then be able to organise your fuel delivery.
Please note that additional charges will be incurred on any out of hours deliveries depending on the individual circumstances of each order.