Nationwide Fuel Delivery
National Fuel Deliveries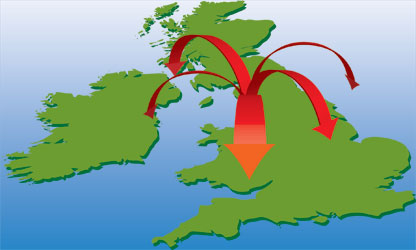 Crown Oil offer nationwide coverage with oil and fuel supply locations spread across the UK, giving us greater flexibility to be able to respond rapidly to your fuel requirements.
With our comprehensive fuel distribution network, we maintain supply and distribution agreements with oil refineries throughout the United Kingdom. This enables us to offer you, the customer, low-cost fuel and lubricant deliveries at every location in UK.
We have the expertise and experience to arrange the delivery of your fuel whenever and wherever you need it.
We can tailor national supply agreements to suit your company's specific fuel requirements, including weekly / daily pricing linked to the world oil markets.
We also have the facility to offer fixed contracted fuel prices for any period of time. This enables you to cap the cost of your fuel expense and budget efficiently throughout the year.
Reliability you can count on
With our contract retention facility available, we can guarantee to deliver your oil in the event of an emergency – to any agreed location, 24 hours a day. With this invaluable facility, you can be sure your business will have access to fuel should you face a temporary service or fuel delivery interruption.
For the most reliable nationwide fuel deliveries please give us a call today on – 0845 313 0845
Where ever you are – Crown Oil is ideally placed to deliver fuel on time, every time.
Our competitive prices, payment and delivery flexibility, reliable delivery services and enhanced customer care make Crown Oil, the best choice for all your oil and energy needs.
We have full nationwide coverage for the delivery of the following fuels:
Gas Oil/Red Diesel
Diesel/Derv
Kerosene
Industrial Heating Oil (IHO)
Biodiesel/Biofuels
Oil
Lubricants
Whether you require gas oil in Glasgow or kerosene supplied to Kidderminster, Crown Oil should be your first choice if you're looking for reliability and low-cost deliveries. Our fuels and lubricants are of the highest quality and our phones are manned 24/7 to ensure 1st class service.
Crown Oil is your complete source for fuel supply and fuel management services in the UK. If you are located in the North West of England, your fuel will be delivered by one of Crown Oil's tankers. If you are based elsewhere, we'll arrange fuel deliveries via our network of approved suppliers across the UK.
To arrange a nationwide fuel delivery please call today on – 0845 313 0845