Nationwide Fuel Delivery
Fuels & Lubricants Delivered Across the UK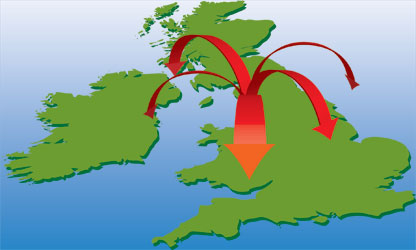 No matter where you are in the UK, Crown Oil will ensure our full range of fuels and lubricants are available to be delivered to you within 24-48 hours.
As one of the UK's largest independent fuels and lubricants distributors, along with over 70 years' experience of supplying customers from all over the UK. We're one of the most trusted names in the industry.
In our 70+ years of operation, we've worked hard to establish a vast network of supply depots across the country. This enables us to not only provide a fast and efficient delivery service, but also ensures we can provide a reliable service to our customers across the UK.
Not only have we been dedicated to building up our network of supply depots to improve delivery times. But this also enabled us to cut down the mileage our tankers were doing in order to complete their deliveries, by being closer to our customers.
We're committed to implementing effective carbon-cutting solutions at every level of our operations. So, our truly nationwide coverage means we rarely have to travel far in order to make a delivery, which not only helps the environment, but also results in even bigger savings for you.
Our greener, environmental credentials extend far beyond our own services, we also provide a range of Environmental Services to our customers to help them ensure their fuels are kept in peak condition.
But what really sets us apart, is our commitment towards helping our customers:
✓ Tailored Supply Agreements
We can tailor national supply agreements to suit your company's specific fuel requirements, including weekly / daily pricing linked to the world oil markets.
✓ Extended Contracts
We also have the facility to offer fixed contracted fuel prices for any period of time. This enables you to cap the cost of your fuel expense and budget efficiently throughout the year.
✓ Priority Contracts
If you're looking for the total security of knowing a fuel delivery is never more than a few hours away, consider taking advantage of our priority contract service. With this, we'll make you our top priority whenever you have a fuel-related need.
For more information on our priority contracts service, click here.
Ready to switch to the most reliable nationwide fuel deliveries in the UK? Call our friendly team today on 0845 313 0845 to find out more and see how we can help you.